Chrysanthemum Plants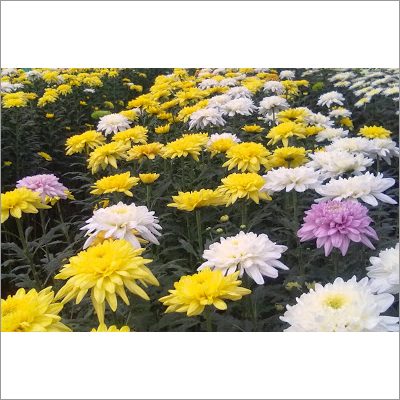 Chrysanthemum Plants
Product Description
RAM BIOTECH is a known name in the Indian agriculture industry for supplying Chrysanthemum Plants that bear aromatic and colorful flowers. These plants are very well taken care of to maintain their integrity and quality. They are grown from high-yielding seeds in a tray until they become health saplings. Besides, the saplings are all-around checked to deliver only the best quality Chrysanthemum Plants to the customers. Considering the efforts and time in growing, these plants are marketed at competitive prices.
Introduction:
Chrysanthemum Plants produce flowers in dazzling whites to deep bronzes color. These plants are available in a wide range of brilliant colors, shapes and sizes.
Climatic condition requirement:
During the growing season, they prefer direct sunlight.
Suitable Soil requirement:
Mums prefer rich, well-drained soil. If the soil is good for vegetables, it's good for mums.
Planting season:
These plants grow best in spring season.
Land Preparation:
Blooms will last longer if Chrysanthemum Plants are moved to a shadier location after flower buds form.
Spacing:
A proper spacing of 1-2 feet between the buds are required.
Planting Method:
Two to three times during the growing season, pinch about 1 inch from the branch tips.
Nutrition (Manufacturing and fertilizers):
Mums are not big feeders, so it is best to apply a dilute fertilizer several times before bud set, with the formulation of 5-10-5.
Irrigation:
Due to its shallow root system, mums require frequent watering, especially in hot weather.
Plant Protection Measures:
Mums are generally considered low maintenance plants.
Chrysanthemum Plants simply requires basic gardening techniques.
Harvesting and Yield:
From September to frost.
Post-Harvest Management:
When the plants dont grow, simply divide them. When new growth appears, dig up the plant, discard the dying center, and re-plant the new shoots on the plants outside.
Contact Us
Shop No. 3 CSNO.1697A/15 Gat No 184, Bhawani Peth,, Jalgaon, Maharashtra, 425001, India
Phone :07588686452