Ice Berry Papaya Plant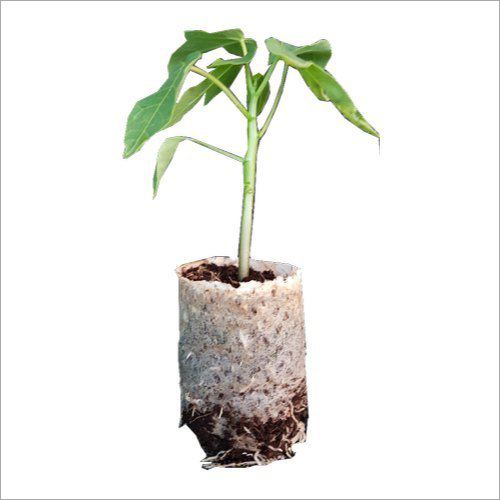 Ice Berry Papaya Plant
Product Description
Ice Berry Papaya Plant offered by our company, refers to the plant which has greenish outer shell and red flush with sweet flavour and aromatic smell. This plant provides delicious papaya variety with tons of health benefits. This plant is usually in a uniform size with pointed blossom shape and good keeping capacity. This plant is easy to plant and is safe too. This plant provides huge benefits too as their leaves are used for making ayurvedic medicines for curing multiple diseases. This is very cost effective to use and plant.
Climatic condition requirement
Ice Berry Papaya Plants are tropical plant that require high humidity and temperatures. Damage can be caused by heavy rains and frost. It can also grow in subtropical regions. The foothills are ideal for papaya cultivation in India. It can grow at sea level and up to 600m above sea level. Fruit quality declines above 600m. Although the crop prefers high humidity for growth, it needs a warm, dry climate to ripen. Papaya plants can't withstand strong winds because of their shallow roots. It is also possible to grow papaya in greenhouses.
Suitable Soil requirement
Several types of soil are suitable for growing papaya. However, papaya plantations need a rich, sandy soil. Alluvial soil commonly found along river bank and delta deltas is another suitable growth medium for it. Fertile soils with a lack of lime and good drainage are best for papaya cultivation.
Planting season
Ice Berry Papaya Plant is usually planted during the monsoon period, autumn and spring. During the winter season, plants are not planted due to the possibility of frost damage. In other words, they are planted during the monsoon season (June-July), the autumn (October-November) or the spring (February-March). Rain, frost, and hot air all cause damage to papayas when planted.
Land Preparation
During rainy season, papaya cultivators need to protect their land from strong winds and avoid getting flooded easily. Windbreaks must surround the land in case of strong winds. The seeds are first sown in nurseries, and after about 6-8 weeks of growth the seedlings are transplanted into the main field.
Each month, pits measuring 50cm by 50cm by 50cm are dug and filled with manure, organic waste, and soil. Each pit is planted with 2 to 3 seedlings. When the plants begin flowering, keep only one plant per pit. During the first year, weeds are controlled with regular hoeing. During the flowering season, 10% of the male plants are kept scattered in orchards while the rest are removed.
Spacing between papaya plants
In general, a spacing of 1.8 x 1.8 m is used. However, increasing the density to 1.5 x 1.5 meters per hectare enhances the amount of returns to the farmer.
Planting Method
60x60x60 cm pits are used to plant the seedlings. During the summer, the pits are dug about a fortnight before planting. Top soil is mixed in with 20 kilograms of farmyard manure, 1 kg. neem cake and 1 kg. bone meal, and the entire mixture is added into the pits. Medium and dwarf varieties are planted closer together, while tall and vigorous varieties are planted at a greater spacing.
Nutrition (Manufacturing and fertilizers)
Manures and fertilizers are necessary for papaya plants. N, P2,5, and K2O should be used to get high yields. Fruit yields are optimal with 200 g of N, but papain yields increase with increasing N up to 300 g. For papaya plants to flourish, it is important to keep them nourished for at least five months after transplanting. Plant vigor and productivity are determined by the size of the stems just before flowering. During this period of time, if the plant is weak due to insufficient nutrition, it will produce negatively for the rest of its life. Fertilizers should be applied frequently and at a correct rate to build a strong and vigorous plant before flowering, as well as to ensure the plant's continued growth and productivity after that.
Papaya farming has realized the importance of nitrogen, phosphorus, and potassium for good growth and yield. In rainfed conditions, a fertilizer dose of 400g nitrogen, 250g phosphorus, and 400g potassium per plant should be applied in six separate applications and the first in the beginning of the monsoon season and the second in the latter part. Rainfall from March to November can be distributed in three split doses. The plants should also receive 20-25 kg of farm yard manure every year. A sufficient amount of moisture in the soil is required for fertilization. Fertilizer applications must be halted six months prior to harvest.
Insect Pests and Diseases in Papaya Farming
Aphids, stem borer, fruit flies, ak grasshoppers, red spider mites and grey weevil are the most common insects observed. Dimethoate (0.3%) or methyl dimethoate (0.05%) must be sprayed prophylactically on the infected parts in all cases.
Contact Us
Shop No. 3 CSNO.1697A/15 Gat No 184, Bhawani Peth,, Jalgaon, Maharashtra, 425001, India
Phone :07588686452