Net Pot Banana Plant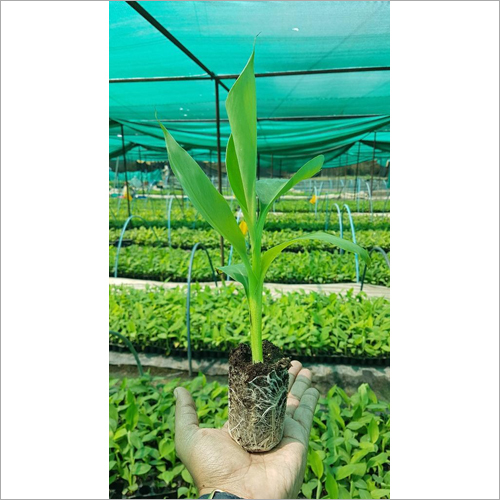 Net Pot Banana Plant
Price And Quantity
Product Specifications
Product Description
Our firm is engaged with supplying best quality Net Pot Banana Plant to the customers. Our clients can avail it from us at a reasonable price.
Climatic condition Requirement
Net Pot Banana Tree grow well in tropical climates with temperatures ranging from 10 C to 40 C and an average of 23 C. With a cooler climate, bloom time is longer, sucker production is decreased, and lots are smaller. banana saplings responds quickly to temperature changes, within one or two hours. When the air temperature drops below 11 C, no growth occurs.
Suitable Soil Requirement
The Net Pot Banana Plant is fairly adaptable to soil conditions. Soil depth and drainage are important considerations. For banana crop production, it is necessary to have fertile, well-drained soils of at least 50 millimeters depth.
Land Preparation
Green manuring crops like daincha, cowpea, etc. may be planted before bananas are planted. Plowing and leveling the land four to six times is feasible. Using a ratatovator or harrow, the clod is broken and the soil is tilted to a fine texture. During soil preparation, a supplemental dose of FYM (about 50 tonnes/ha. before the last harrowing) is added and mixed into the soil thoroughly.
Planting Season
It is possible to plant tissue culture bananas throughout the year, except during periods of high and low temperatures. When bunches emerge (i.e. about 7-8 months after planting), adjustment may be made to avoid high temperatures and drought. Short-term and long-term plants have different planting times.
Spacing
In traditional banana farming, banana trees are usually planted 1.5m x 1.5m with high density; however, the plants' growth and yields are low because of competition for sunlight. A planting distance of 2.1 m x 1.5 m is required for the regions of north India, coastal belt and places where humidity is very high and the temperature drops down to 5-7 degree Celsius.
Patta double line method is used to plant bananas. Between these two lines, the distance is between 0.90 and 1.20 m. The distance between plants is between 1.2 and 2 meters. This spacing makes intercultural operations easier, and costs of drip irrigation are reduced. Researchers have discovered that keeping the planting distance at 1.8 x 1.8 m can yield good quality bananas and heavy bunches. 1.2 X 1.5 meters are ideally suited for maximum yields, however.
Planting Method
The garden system of cultivation is commonly based on pit planting. It is normally necessary to dig a pit that is 0.5 m x 0.5 m x 0.5 m. If there are ridges or furrows, pits are dug. Pits deserve a topsoil mixture containing 10 kg of FYM (well digested), 250 gm of neem cake and 20 gm of carbofuran. Solar radiation is allowed to kill all insects and soil-borne diseases in open pits for 15-20 days before filling. A pit mixture containing organic matter and gypsum must be modified in saline alkaline soils above 8.
Nutrition
The soil can often only provide a portion of the nutrients needed by Net Pot Banana Plants. Nutrient requirements per plant are 10 kg FYM, 200-250gm N, 60-70gm P, and 300gm K. For a metric ton of banana crop, 7-8 kg of nitrogen, 0.7-1.5 kg of phosphorus and 17-20 kg of potassium are needed. In traditional farming methods, urea is used more often and phosphorus and potash are used less. Several split applications of urea are used.
Contact Us
Shop No. 3 CSNO.1697A/15 Gat No 184, Bhawani Peth,, Jalgaon, Maharashtra, 425001, India
Phone :07588686452